tlanta is one of the country's great urban centers. In the southeastern US– where it's located – this so-called City in a Forest serves as a regional hub for both culture, finance, and education. It is also strategically located Birmingham, the Alabamian state capital, lies approximately two hours away from Atlanta. Meanwhile, Nashville in neighboring Tennessee is due north– about a four-hour drive away. Another state capital, Columbia in South Carolina, is three hours east of the city.
There are many appeals to moving to Atlanta. And it is no secret. In 2021, the Atlanta metropolitan area added 64,940 new residents to its roster. This brought the population to a total of 5.1 million people. Atlanta in particular welcomed over 5,000 residents to the city during that same period.
If living in Atlanta seems to be in your future, continue reading to learn about why you should pursue it. Below are the top reasons to move to Atlanta.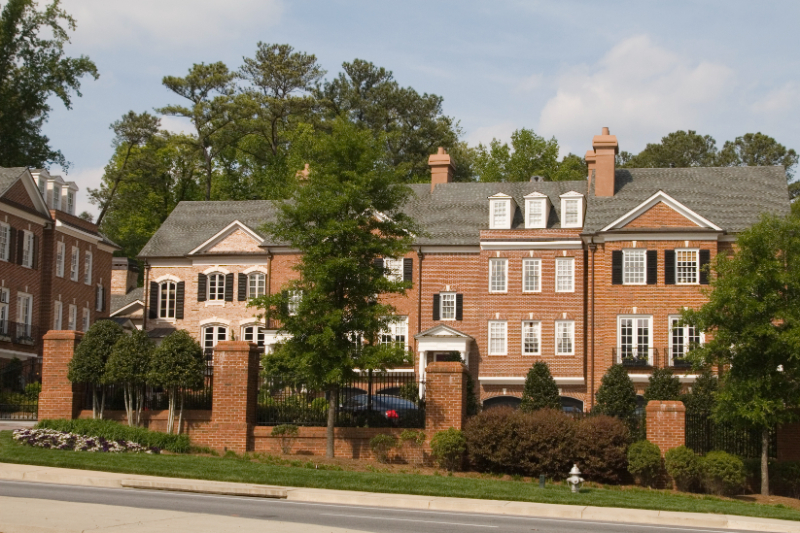 OVER 200+ OFFICIAL NEIGHBORHOODS TO CHOOSE FROM
Finding the right neighborhood to settle is one of the challenges in relocation. Fortunately, Atlanta offers a plethora of options that can satisfy your unique needs and lifestyle preferences. To date, the city has 242 official neighborhoods. Exploring each one will take an enormous amount of time and effort. To help you start on the right foot, below is a selection of what are considered to be the best neighborhoods in Atlanta.
Buckhead
With its skyscrapers, high-end retail spaces, and luxury real estate, Buckhead is well-known as Atlanta's version of Beverly Hills. This district is in uptown Atlanta and has an estimated population of over 100,000 residents.
Buckhead, at times, feels very much like a full-fledged city. It traces its roots back to 1838, when it was just a 203-acre parcel of land purchased by one Henry Irby. It didn't take long for Buckhead to become a desirable address for wealthy Atlantans. Despite world wars and economic unrest, luxury estates continued to be built on Buckhead's rolling hills.
To this day, it remains one of the sought-after places to live in Atlanta. There are 40 neighborhoods in Buckhead, including Argonne Forest, Brandon, Arden-Habersham, Paces, Brookhaven, West Paces Ferry, Peachtree Hills, and Tuxedo Park.
Sandy Springs
Sandy Springs is one of Atlanta's choicest suburbs, located just north of the city. Once upon a time, the city used to be mostly residential. Now, Sandy Springs is home to several Fortune500 companies. But although commercial activity is high in the community, Sandy Springs continues to be nature-filled and relaxed. It wouldn't be a surprise if you discover more reasons to move here than to Atlanta.
Upscale properties are the hallmark of Sandy Springs real estate. Styles and selections widely vary, from townhomes and condos to expansive estates. The local median home value is around $618,000. Coveted neighborhoods include Cherokee Park, Benton Woods, and the River Gate-Spalding Hills area.
Inman Park
Inman Park's pedigree is undisputed. Developed in 1889, the neighborhood holds two firsts in Atlantan history: it is Atlanta's first planned residential community as well as the first area to be serviced by the electric trolley. Although Inman Park is a few years shy of turning 140 years old, it is still widely considered one of the trendiest places to live in Atlanta.
Victorian influences prevail in this leafy, tree-lined neighborhood. But now, Craftsman bungalows and newer properties stand alongside Inman Park's original Victorian homes. With median home prices hovering around the $740,000 mark, this neighborhood is considered one of the most expensive not only in Atlanta but in the state.
Midtown Atlanta
Many of the reasons to move to Atlanta can be traced back to Midtown. In this neighborhood, it is said that one can experience the most authentic form of Atlanta city living. That is because Midtown is home to a high concentration of the city's arts and culture spaces, nightlife, and annual events.
Midtown is Atlanta's geographic center with a population estimated to be over 40,000 residents. Because of this location, average home prices in the neighborhood are on the pricier side. Options are plentiful, however, and range from bungalows with outdoor living spaces and historic brick homes to modern condos. Some of the notable neighborhoods in Midtown include Midtown Core, Ansley Park, Atlantic Station, and Sherwood Forest.
Little Five Points
Located in Atlanta's east section, Little Five Points appeals to a wide range of people for its array of shops, restaurants, and other curiosities. Because of its bohemian spirit and tendency to eschew well-established traditions, some have likened Little Five Points to San Francisco's Haight-Ashbury community.
Street art can be found almost everywhere in Little Five Points, from the walls of its cafes to its residential buildings. But this neighborhood also has a practical side to it– it is located conveniently near I-20. Little Five Points is a predominantly commercial area with very limited housing options that tend to be condos and lofts. For those who want to remain close, Inman Park and Candler Park are both located nearby.
ATLANTA HAS A STRONG REAL ESTATE MARKET
For those who are looking to settle roots, the real estate market is one of the reasons to move to Atlanta.
Although Atlanta is reputed to have the most expensive housing market in Georgia, the city is relatively more affordable than other similarly sized cities across the country. The quality of life is comparable to other metropolises such as New York City and Los Angeles, minus the hefty price tag. Furthermore, whereas people are moving out of cities, the Atlanta metropolitan area is attracting them.
Looking at the numbers
Real estate in Atlanta has a median home value of $453,479, but home prices run the gamut across the market: $60,000 to over $1.3 million. The market is almost split in half– about 50.1% of the homes in Atlanta are priced at $400,000 or less, while 49.9% of the market has prices from $403,000 and more.
There are over 220,000 housing units available in Atlanta, including single-family homes and multi-family dwellings. Majority of these (58.2%) are tenant-occupied, while nearly 42% of the units are owner-occupied. Meanwhile, 12.3% of Atlanta's residential units are vacant. An interesting point to note is that, despite the long history of most of Atlanta's neighborhoods, most of its housing was built between 1970 and more recently. 27.3% of Atlanta real estate was built between 1940 to 1969, while only 12.1% were built between 1931 or earlier.
Outlook
Another point to consider when investing in Atlanta real estate is the long-term appreciation rates. Since 2000, the market has appreciated by nearly 140%, with an average annual appreciation rate of almost 4%. Whether you intend to purchase a piece of luxury real estate or a home in the middle price range, it is almost guaranteed that you can benefit from the stable appreciation rates– provided mortgage payments are paid on time.
Randall Mill, Club Forest, Argonne Forest, Arden-Habersham, and Brookwood Hills are five of the most expensive neighborhoods in Atlanta currently. Median real estate prices in these communities range from $1.4 million to $1.6 million. For those who already have the capacity, buying a home in any of these neighborhoods may be worthwhile. But for homebuyers who want more wiggle room, Vine City, The Villages at Castleberry Hill, Hunter Hills, and Ashview Heights have seen consistently high appreciation rates for the past 23 years.
ATLANTA IS THE REGIONAL CAPITAL OF COOL & CULTURE
If activities, attractions, and entertainment are integral to your city living experience, you will find Atlanta constantly rising to the occasion. The city is home to a dynamic food scene, great nightlife and live music, as well as exciting arts spaces (both private and public). Community events and local festivities are scheduled throughout the year, attracting the attention of both locals and tourists.
Delicious eats
Different regional and international cuisines are well-represented in Atlanta's food and drink scene. Some of these bars and restaurants have been around for years, while others are relatively new– but look like they are geared towards longevity. To date, Atlanta has yet to have a Michelin-starred restaurant, but things may change soon with the arrival of the MICHELIN Guide to the city. For now, here are some of the most acclaimed restaurants in Atlanta:
Bacchanalia

Bacchanalia's seasonal New American menu may become one of your personal reasons to move to Atlanta. The restaurant is an intimate space with a 90-person capacity, allowing each guest to savor each of their well-made plates. Ever since it opened in 1993, Bacchanalia has garnered a loyal following of patrons, always eager for their four-course prix fixe menu.

Lazy Betty

Lazy Betty offers well-crafted tasting menus in their high-concept dining room on Wednesday, Thursday, Friday, Saturday, and Sunday evenings. Diners have a choice between four-course and seven-course tasting menus. Vegetarian alternatives are also offered, but are also recommended if you are in the mood for a more vegetable-forward dining experience.

Lyla Lila

Located in Midtown, Lyla Lila has carved a name for itself in the Atlanta dining scene for its heartfelt take on southern European cuisine. Their ever-changing menu is largely influenced by vegetables and seafood currently available in the markets, moving with the seasons. This menu is paired with an equally ever-evolving wine menu that features sustainable and organic Italian wineries and vineyards.
Annual events & festivals
Atlanta's events calendar is rarely blank. There is always something happening in one or several of the city's neighborhoods. These range from small community-organized events to large-scale festivals that are now synonymous with the city. Some of Atlanta's most popular events include:
Museums & other cultural institutions
On days when you are in the mood for culture, Atlanta is home to several museums and art galleries. Depending on where you go, you may be able to learn about different facets of Atlanta life and culture, from contemporary art to the civil rights movement. Some of the most recommended museums in the city include:
High Museum of Art

The High Museum of Art hosts over 18,000 works of art from all over the world. They are displayed through seven distinct themed collections, with items constantly rotated to ensure you see something new each time you visit. Dedicate a few hours for your visit to completely immerse yourself, whether you're viewing West and Central African art or American modernist and documentary photography.

National Center for Civil and Human Rights

Atlanta is well-renowned for its cultural diversity, which also counts as one of the many reasons people decide to move here. But it took time and effort to get the city to this point. You can learn more about this ongoing work at the National Center for Civil and Human Rights. The highlight of the cultural center is its collection of papers and artifacts about Martin Luther King, Jr., one of the heroes of the American civil rights movement.

Center for Puppetry Arts

There are only a few museums in the world dedicated to puppetry, and one of them is located in Atlanta's Midtown neighborhood. The Center for Puppetry has been open since 1978 to share the art of puppetry to both enthusiasts and casual onlookers. There are over 5,000 puppets and artifacts housed here, including iconic characters such as Big Bird of Sesame Street and Kermit the Frog from The Muppet Show.
LIMITLESS OUTDOOR OPPORTUNITIES
Physical activity and outdoor recreation have myriad benefits to a person's overall health and well-being. Regardless of your fitness level or general fondness of outdoor recreation, Atlanta presents a wealth of options in and around the city for days when you are ready to venture out.
City parks and green spaces
All throughout Atlanta, residents can benefit from easy access to city parks big and small. The city maintains over 3,000 acres of parkland– most neighborhoods tend to have their own community park. Some of the more notable parks in Atlanta include the 200-acre Piedmont Park and its neighbor, Atlanta Botanical Park, Grant Park in eastside Atlanta, and the Atlanta BeltLine, which runs for 22 miles.
Click here for a full list of Atlanta's parks and recreational spaces.
Outdoor recreation outside Atlanta
For those who want a change of scenery, Atlanta is only a relatively short drive from a number of outdoor destinations. The Piedmont National Wildlife Refuge in Hillsboro is about an hour away from the city. In the opposite direction lies the green sprawl of the Chattahoochee-Oconee National Forest, also roughly an hour away from Atlanta. An easy outdoor destination less than 30 minutes away from Atlanta is Stone Mountain Park. Nearby lakes, – such as Lake Lanier and Lake Allatoona – provide water recreation opportunities all year round.
IN ATLANTA, EVERYONE IS WELCOME
If there is one essential reason to move to Atlanta, it would be that here, everyone is welcome. And as Atlanta continues to evolve and solidify its position as one of the country's best cities to live in, you can expect bigger and better things from this metropolis.
Let HOME be the first to welcome you to Atlanta. HOME is a collective of top-producing Atlanta-based Realtors that direct luxury real estate buyers to their dream properties in the city. Each luxury real estate sale with HOME benefits various charitable organizations. This ensures that everyone can enjoy what living in Atlanta has to offer.
Call HOME at 404.383.4663 (HOME) or visit their office at 1819 Peachtree Road to take the next steps to your Atlanta relocation.